BDP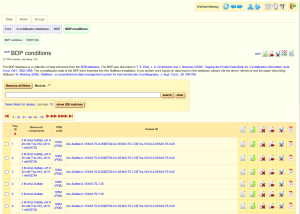 Die BDP Datenbank ist eine Kollektion von Daten aus der PDB Datenbank. Die BDP wurde in T. S. Peat, J. A. Christopher and J. Newman (2005). Tapping the Protein Data Bank for crystallization information. Acta Cryst. D61, 1662-1669 beschrieben. Die BDP enthält neben den Daten zur Kristallisationslösung auch Verweise zum Originaleintrag in der PDB-Datenbank, einen Verweis auf den Ursprung des Proteins und beschreibende Schlüsselwörter.
BMCD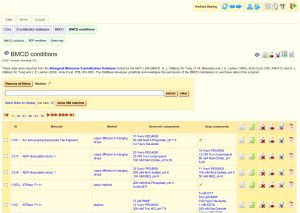 Die Daten wurden von der Kristallisationsdatenbank von biologischen Molekülen importiert. Diese Datenbank wurde erstellt von NIST, USA (BMCD, G. L. Gilliland, M. Tung, D. M. Blakeslee and J. E. Ladner (1994). Acta Cryst, D50, 408-413, and G. L. Gilliland, M. Tung and J. E. Ladner (2002). Acta Cryst, D58, 916-920). Wir danken den BMCD Autoren für die freundliche Genehmigung die Daten hier zu präsentieren.
Die BMCD und die BDP beherbergen zusammen Daten mit über 15000 erfolgreichen Kristallisationsbedingungen.